Request for Extension of Comments Period for Proposed Changes in NHPRC Grants Program
[Update, Feb. 27: The NHPRC has extended the deadline for comments to March 31.]
Members of the ADE and others in the documentary editing community:
Today I have, with the authorization of the ADE Council and in consultation with the Federal Policy Committee, sent a request to David Ferriero, the Archivist of the United States, for an extension of the comments period on the proposed changes to the grants program of the National Historical Publications and Records Commission. The NHPRC has announced that comments will be accepted until Thursday, February 27. I have requested, for the Association, that the comments period be extended to run through April 30 to allow for a full discussion of these very important proposed changes to a grants program that has long supported editions of American historical papers.
See below for my letter to the Archivist.
Jim McClure
ADE President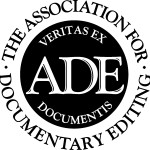 February 24, 2014
Mr. David S. Ferriero
Archivist of the United States
National Archives and Records Administration
700 Pennsylvania Avenue, NW
Washington, DC 20408-0001
Dear Mr. Ferriero:
The Association for Documentary Editing, which as you know represents a diverse community of individuals and projects working on a variety of textual materials for publication in various electronic and print formats, respectfully asks that the comments period for the proposed changes to the NHPRC's grants program be kept open through April 30.
The Overview of Proposed Changes to the NHPRC Grants Program appeared on the Annotation blog of archives.gov on February 13. The closing date for comments is February 27, allowing only two weeks for comment on policy changes that, according to the Overview, took two years to develop. The report on The Digital Citizen and the American Record, which is cited in the announcements of the proposed new grant programs, has not yet been released. On a practical level, this proposed transformation has generated confusion and concern among current recipients of grants. Some activities that presently qualify for NHPRC grant support, and which in some cases constitute a significant part of the performance objectives of current grants for publications projects, will no longer qualify if the changes are implemented. For some projects, even if they qualify, the timetable for submission of applications and decisions by the Commission will change significantly with no allowance for adjustment by the projects or their sponsoring institutions.
More fundamentally, the proposed new grant programs will overturn the Commission's longstanding role in the creation of authoritative editions of American historical documents. A transformation of this magnitude deserves and requires thoughtful discussion and evaluation by users and audiences of the editions, as well as editors, sponsoring institutions, and the academic presses that are partners in the editorial enterprise.
That discussion cannot take place by February 27, or in time to allow implementation of the proposed changes to meet the FY 2015 grants cycle.
For decades, NHPRC support has been crucial to editions that make the record of the nation's history accessible to the American public. These proposed changes demand more consideration than is possible in the proposed timetable.
Sincerely yours,
James P. McClure
President, The Association for Documentary Editing
General Editor, The Papers of Thomas Jefferson, Princeton University
ade-president@documentaryediting.org