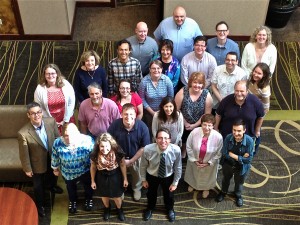 Graduates: Diane Biunno, Mark Cheathem, Kerry Dahm, Cindy Damon-Bach, Andrew Fagal, Toby Gass, David Grua, Robb Haberman, Melinda Jetté, Mitch Kachun, Pat Kalayjian, Rachel Manuszak, Aaron McArthur, Chris Parsons, Pamela Pierce, Marc Rice, Nicole Robinson, Safa Saraçoğlu, and Sandra Standish.
Faculty: Cathy Moran Hajo, Bob Karachuk, Ondine LeBlanc, Beth Luey, and Jennifer Stertzer.
Guest presenters: Darrell Meadows and Dan Sack (not pictured).
The Institute for the Editing of Historical Documents is administered by the Association for Documentary Editing under a grant from the National Historical Publications and Records Commission (NHPRC), an affiliate of the National Archives.
For more on the Editing Institute, visit the ADE website at <http://www.documentaryediting.org/wordpress/?page_id=79> or e-mail Bob Karachuk, ADE Education Director, at <ade-educationdir@documentaryediting.org>.