Sanger Papers Project Completes 4-Volume Book Edition
We are pleased to announce the publication of 'Round the World for Birth Control, 1920-1966, the fourth and final volume of The Selected Papers of Margaret Sanger has been published by the University of Illinois Press.  The 720-page volume  addresses Sanger's least studied activities  from her groundbreaking advocacy of birth control around the world during the interwar years through her postwar role in creating the International Planned Parenthood Federation.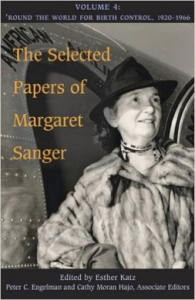 Volume IV covers Sanger's interwar travels to Europe and Asia, the historic 1927 World Population Conference in Geneva, which she organized, along with subsequent international birth control conferences from 1930 to 1961, as well as the Birth Control International Information Centre, a clearing-house for the exchange of ideas and practical information. The volume also addresses Sanger's post World War II revival of international support for birth control, documenting the backlash of post-Holocaust rejection of the eugenics movement and the pro-natalist voices of those whose populations were decimated by the war. It traces the founding of the International Planned Parenthood Federation (IPPF) and illustrates the relationships between population controllers and many feminist and health-oriented birth controllers. The volume closes with Sanger's efforts to maintain control over the direction of the IPPF even after her resignation as president, not only by trying to choose her successor but by attempting to ensure that the new leadership not ignore the primary importance of a feminist-based commitment to birth control.
The publication of this volume is the culmination of the Sanger projects efforts to make  Sanger's papers available to the public in  variety of formats. Along with volumes, the Project has produced a two- series, 101-reel microfilm edition, in image edition of The Woman Rebel as part of the Model Editions Partnership, and a digital edition, The Speeches and Writings of Margaret Sanger (which is still being finalized). As a result, we have closed our project offices at New York University.
As Editor Esther Katz completes  the digital edition, the projects new address is P.O. Box 3090, East Hampton, NY 11937. Our e-mail address sanger.papers@nyu.edu will remain the same as will our web site: http://www.nyu.edu/projects/sanger/